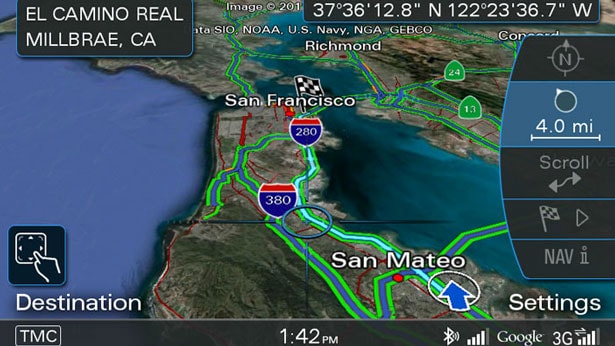 Audi connect™
From the Internet into Your MMI® System
Audi connect™ offers drivers and passengers the ability to access current information and enhance their enjoyment of their Audi vehicle.*
Discover the world from above. Audi connect™ brings high-resolution three dimensional terrain and aerial imagery through a first-to-market integration of Google Earth™ with an in-vehicle navigation system - the Audi MMI®  Navigation plus. Built-in high-speed mobile broadband data access delivers the best possible experience to customers in the vehicle and also enables another first-to-market execution - a factory integrated mobile Wi-Fi Hotspot for passengers. With the aid of a laptop, iPad®, netbook or other mobile device, passengers can retrieve web-based information just as conveniently and securely as from the office or home.
Audi connect™ makes it easy to search for places of interest using voice or entering search terms with the innovative MMI® TouchPad or dial. The integration with Google™ Local Search and Google™ Voice Local Search enables free-text capabilities that allow more natural and intuitive requests. Additionally, information most requested by drivers is available through the Audi connect™ Online Services interface on the MMI® head unit in a manner that is safe to use and provides the most up-to-date information on fuel prices, weather, news, and travel destinations.
Audi connect™ services also allow route planning from the convenience of home or work using Google Maps™ and the convenient Send to Car function. Access these destinations from the vehicle with ease using the myAudi Destinations feature. Audi connect™ is available with the MMI® Navigation plus package on select Audi models. An Audi approved SIM card will be installed at the time of purchase. Your dealer should have activated your T-Mobile SIM card but if you are having issues, please contact T-Mobile dedicated Audi support at 1-877-505-AUDI (2834). Press option 1 for T-Mobile customer service.
Contact your Audi dealer for more details on features and options.
*Distracted driving can cause a loss of vehicle control. The features and technologies discussed above are offered for convenience, and should be used only when it is safe and appropriate. Please pay careful attention to the road, and do not drive while distracted.
**The content and scope of available online-based services may vary. You should familiarize yourself regularly with new online information services. Google™, the Google™ logo, Google™ Local Search , Google™ Voice Local Search and Google Earth™ are registered trademarks of Google Inc.
T-Mobile Service Links
Manage T-Mobile Account 
Audi connect™ Videos
View